Resources to Help You Quit Smoking

There are many ways to quit tobacco and a lot ways to get support. Remember, the best plan is the one you can stick with. For more information, visit some of the resources below.

Whether you're planning to quit, recently quit or are "staying quit," smokefree.gov has free tips, tools and resources to help you stay tobacco-free.

A statewide organization that provides free services to help you quit smoking today. It offers free counseling in many languages. Call to speak with a counselor today or send a text to sign up for the text coaching program:

English:

1-800-300-8086

or Text "Quit Smoking" or Quit Vaping" to 66819

Español:

1-800-600-8191

o Envie "Dejar de Fumar" o "No Vapear" to 66819

中文 (Chinese):

1-800-838-8917



한국인 (Korean):

1-800-556-5564



Tiếng Việt (Vietnamese):

1-800-778-8440



A national organization that provides information on quitting smoking at no cost. Call 1-800-QUIT-NOW to learn more.
Kaiser Permanente Medical Group
Kaiser Permanente HPSM members can sign up for Quit Smoking support groups, workshops and class series at no cost. Call 650-299-2433 to learn more.

Nicotine Replacement Therapies
If you've tried quitting on your own and are having trouble, you may be able to manage your cravings through Nicotine Replacement Therapies (such as gums, pills and patches – all of which HSPM covers). Many nicotine replacement therapies are available over the counter (OTC). Talk with your health care provider about which treatment options would work best for you.
HPSM's "Break the Habit" booklet
Whether you smoke, vape or chew, our new eight-page "Break the Habit" booklet is designed to make quitting easier by:
Emphasizing the benefits of quitting to motivate action
Highlighting the proven steps to creating an effective quit plan
Providing tools, programs and other resources that support quitting
Read our special-edition quit tobacco newsletter!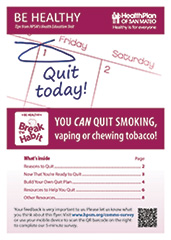 Our eight-page quit tobacco newsletter is designed to help those who smoke, vape or chew break the habit. It explains the benefits of quitting, the six steps to building a personalized quit plan and the resources that can help people quit. To get a print copy mailed to you, call the Health Education Unit at 650-616-2165.
---
More about the dangers of smoking and tips on how to quit
Resources to Help you Quit