COVID-19 Information for Members
Personal & Home Safety
Your best defense against COVID-19 is to strictly follow the advice of health experts. This will greatly reduce your chances of contracting this very contagious virus and spreading it to others.
What we all do now will determine how bad this crisis gets in the coming weeks and months. For example, if you are infected (even without symptoms), and you go out, that could lead to two thousand people becoming infected within a month.
Self-care tips
In order to keep our families and communities safe, we must continue to practice the safety measures that help prevent the spread of COVID-19. The best place to start protecting yourself and your loved ones is right in your own home!
HPSM's COVID-19 Care Guide
Use HPSM's new COVID-19 Care Guide to protect your household from the spread of COVID-19
HPSM's COVID-19 Care Guide includes:
Critical actions

you can take to stop the virus from spreading if you or someone in your household has COVID-19

Caregiver basics

to keep you and your household safe and healthy

How to quarantine safely

if you have (or think you may have) COVID-19

Instructions

on how to properly wear a mask, wash your hands and clean your home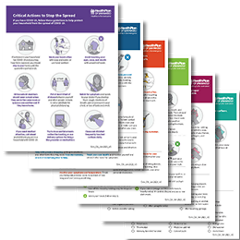 ---
Get the latest facts
Read the Coronavirus Disease 2019 (COVID-19) FAQs from the Centers for Disease Control.
The main symptoms of COVID-19 are fever, cough and/or breathing difficulties. Having these symptoms, does not mean you have COVID-19. If you have medical questions about COVID-19 or symptoms you have, please call our Nurse Advice Line at

1-833-846-8773

or your primary care provider (PCP).
If you have non-medical questions about COVID-19 (such as how to prepare for an outbreak or prevent its spread), call the County of San Mateo Public Call Center by dialing 211. This multilingual hotline is open 24 hours a day, 7 days a week. Calling this number instead of 911 will allow dispatchers to focus on emergency calls. For more information, visit the county website or text "coronavirus" to 211 for updates.
---
Get to your appointment safely
Need a ride to the doctor, pharmacy or other health care visit? CareAdvantage and Medi-Cal members who have no means of transportation can get rides at no cost. Learn how
---
Protect Yourself from Scams