On June 9, 2023, the National Committee for Quality Assurance (NCQA) awarded Health Plan Accreditation to HPSM for the organization's Medicaid (Medi-Cal) line of business. A status of Accredited recognizes HPSM for service and clinical quality that meets or exceeds rigorous requirements for consumer protection and quality improvement.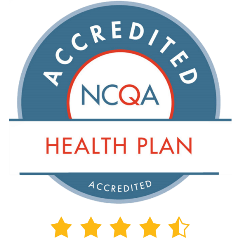 NCQA accreditation is the health care industry's "seal of approval," indicating that HPSM meets the highest quality standards for patient experience, prevention and treatment. Undergoing the rigorous accreditation process accomplished this. It made HPSM a more efficient and effective health care organization that continuously improves the quality of care and services provided to our members.
HPSM CEO Patrick Curran said that "Achieving NCQA accreditation is an important milestone for us at the Health Plan of San Mateo. NCQA is the national standard for health plan quality. This certification is a testament to the dedication of our staff, who work every day to support our members, helping us achieve our vision that Healthy is for everyone."
NCQA Health Plan Accreditation surveys include rigorous evaluations of more than 60 standards and quality measures. A team of physicians and health plan experts conduct accreditation surveys, and a national oversight committee of physicians analyzes the team's findings to assign an accreditation level based on the performance of each plan being evaluated according to NCQA's standards.
The National Committee for Quality Assurance (NCQA) is a private, nonprofit organization dedicated to improving health care quality. NCQA accredits and certifies a wide range of health care organizations and recognizes clinicians in key clinical areas. NCQA's HEDIS® is the most widely used performance measurement tool in health care. NCQA's website (www.ncqa.org) contains information to help consumers, employers and others make informed health care choices.
Health Plan of San Mateo (HPSM) is a local, non-profit County Organized Health System (COHS) founded in 1987. HPSM's mission is to ensure that San Mateo County's vulnerable and underserved residents have access to high-quality care, services and supports so they can live the healthiest lives possible. With more than 155,000 members or participants, HPSM serves all of the County's Medi-Cal eligible residents, nearly 9,000 members eligible for both Medicare and Medi-Cal, as well as families, seniors, people with disabilities and children with complex medical conditions. HPSM also sponsors special programs that address the complex social issues that some eligible members face – from home-based health care to affordable housing for the homeless. Learn more at www.hpsm.org.