In April 2023, counties throughout California started checking Medi-Cal beneficiaries' eligibility for the first time in three years. This statewide renewal process will continue through June 2024. As a result, many HPSM members who are still eligible for Medi-Cal are at risk of losing their coverage because they haven't submitted information that the Human Services Agency (HSA) needs to confirm their eligibility.
To ensure that as many of our eligible members as possible keep their Medi-Cal benefits, HPSM is conducting an ongoing, proactive outreach effort through June 2024. This campaign includes various communication strategies to urge members who haven't submitted their renewal packets to do so as soon as possible. Our outreach methods include: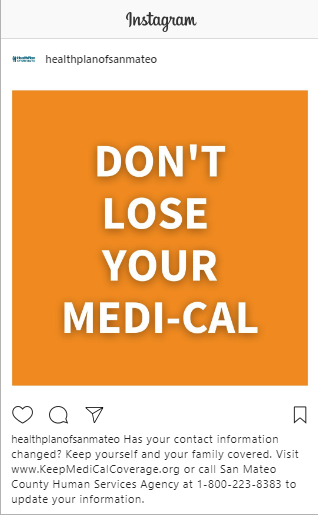 Robocalls

Since June, our automated system has made thousands of calls: two per household every month until contact is confirmed.

SMS text messages

Our Health Coverage Unit sends renewal messages and works with clinics to help reach more members.

Social media

Posts to our Facebook and Instagram accounts (right) get the word out to all our followers. Even if a reader has already submitted their renewal packet, this may motivate them to remind a family member, friend or neighbor.

Member newsletter articles

Our three most recent issues of HEALTHmatters have included articles urging members to submit their renewal packets to the Human Services Agency (HSA).
How you can help members keep their Medi-Cal coverage
Remind members who haven't renewed to check their mailbox for a white envelope with a yellow strip from HSA.
Encourage members to complete and return their Medi-Cal renewal packet as soon as possible. If they do not have all their supporting documents ready, urge them to return it with what they have.
Tell members who have questions or need renewal assistance to call the HSA office at

1-800-223-8383.

Members can also access their accounts on the MyBenefits CalWIN website to:

Get online help and instructions on how to apply.
Report changes in their information.
Renew their Medi-Cal benefits.
Order a Medi-Cal Benefits Identification Card (BIC).