On January 1, 2023, HPSM started covering doula services for Medi-Cal members.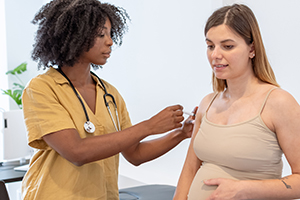 Doulas provide individuals and families with emotional and physical support during pregnancy, labor, and birth and after childbirth. Eligible members pay no additional cost for doula services.
When your patients can get doula care:
HPSM covers doula care during pregnancy, labor and birth (including stillbirth), abortion, miscarriage and within one year after the end of a pregnancy. Doula services are covered for prenatal (before birth), labor, miscarriage, postpartum (after pregnancy) and abortion visits.
Doulas can perform different roles:
Labor or birth doulas provide continuous care during labor.

Prenatal doulas support pregnant people who are put on bed rest to prevent preterm labor. They help with household tasks and childcare.

Postpartum doulas support new moms during the first few weeks after birth. They help with care, feeding of the baby and household tasks.

Pregnancy loss doulas support families who have experienced pregnancy loss due to termination, stillbirth or miscarriage.

Abortion doulas help individuals navigate the process and experience of ending a pregnancy.
Covered doula services include:
The first checkup visit.

Up to eight additional visits that can be a combination of prenatal and postpartum visits.

Support during labor and delivery (including when it results in a miscarriage or stillbirth).

Support during abortion services.

Up to two sets of three-hour postpartum visits after the end of a pregnancy. If patients need additional care in the postpartum period, primary care providers (PCPs) can request authorization of up to nine additional postpartum visits.
Providers can connect patients to doula services by contacting HPSM's Provider Services Department
HPSM members who do not have an assigned PCP can contact Member Services for assistance with getting one.
If you know any doulas who work in San Mateo County, encourage them to apply to HPSM's provider network. Doulas can learn about eligibility requirements, rates, billing and reimbursement here. Those who want to join the network can complete our online application. Those who have questions about joining the network can email Provider Services.